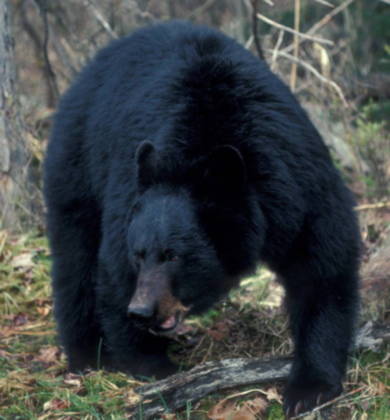 A BIT ON EDGE 10-26-09
Time: 11:45 PM

Would it be any wonder anyone would be on edge, coming face to face and looking into the eyes of a big brute like is in the picture. Even though we are inside and he is outside.
But we are used to black bears visiting here.
They start coming out of hibernation usually in March, though Joe has seen bear tracks in February. The last time we saw one this year, was near the end of May.
Now that it is close to hibernation time, they will travel back to their home stretch.

Now to the story:
We were in bed when the sensored motion lights lit up the dark mountain we live in. I jumped out of bed and looked out the bedroom window, but could see nothing moving around.
So I went into the kitchen and looked out the dining room window.

Well I didn't have to even look past the windows into the dense woods. He stood over 5½' tall on his hind legs, his large body filled the width of the narrow corner window, his paws reaching up past the top of the window. He was looking for the bird feeder we hang up under the eave.
He swung his paws back and forth, and walked from window to window, trying to find the feeder.
We think it was Rascal who has been visiting for three years. He knows where we hang all feeders, even when they aren't hanging up. LOL!

What made ME on edge was how close to the windows he was. If he should lean on them, or fall against them, heaven only knows what might have happened, and we have broken windows and maybe an injured angry bear.
I went and got Joe up, just in case something unforeseen would happen.

After the bear decided there wasn't anything there, he strolled down the walk to the back porch. He knows the garbage can is there, but what surprised us was he didn't touch it. Unreal!
Guess he wasn't into checking out the goodies in it this time.
Our garbage cans have been dragged off a few times and raided. Garbage strewn across the ground and up into the mountain.

One other thing that surprised us was that he did not bother with the bird feeders hanging on the ten foot heavy steel pole on the other side of the house, or the two suet holders hanging on the tree on that side of house. HHMMmmm!!
All he wanted was that ORANGE feeder. Slowly he lumbered up into the mountain looking back towards the house, with a very disappointing look on his face.
AAwwww! But we know he will be back again. So now we will be on guard, not only during night time hours, but daytime to, for they do come here during daylight hours.
We most assuredly will be looking out the back doors, the front doors, and windows before we step outside or let our boxer girl Lilah loose.





~ Story written by İBarbara L Carter
1972-2017
October 28th. 2009
Page design by Bluejay12 & Diamondavid ~
~ Website maintained by Diamondavid ~
~ Song Title ~
~ Looking Out The Back Door ~

This is our house
facing the mountain side, and these are the windows the bear was walking around.

Click Bluejay Icon
~ My page Listings ~


Click here for More Real Bear Stories!!