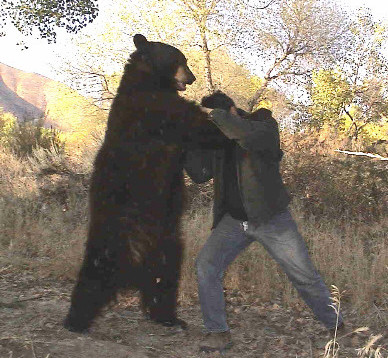 A "Gentle" Ben Story!
Hi,
My name is David Ross Musso aka
Diamondavid
I live in Des Moines, Iowa

My dearest and devoted friend
Barbara aka Bluejay12
Inspired me to write this lovable funny story,
which is a first for me. Hehe!

Years ago in the sixties,
when I was about twelve years old,
down the street from where I lived, there
was a Fitness Gym called Sorencen Gym.

Ben Sorencen
was the owner and a body builder.
This gym had all your exercising equipment.
He also had an indoor and outdoor pool, etc.
We'd swim and enjoy our memberships there every Saturday.

Well, one day a couple of my friends and I,
went down to the gym like always,
to swim in the outdoor pool.

When we got down there, there was a crowd
of people in the parking lot.
People in their cars, were even stopping on the street,
trying to figure what everyone was watching.
They were laughing, and screaming.
We didn't have any idea what the excitement was until we got up close.
I couldnt believe my eyes ...

'Ben Sorencen, the owner of this gym had a BEAR
Omg!

I couldnt believe what I was seeing!
The people were lined up to wrestle this
gentle lovable BEAR, and like
his owner, they called him "Gentle Ben".
In the parking lot, there was a piece
of carpet I would say 20ft by 20ft, and in
the center of this carpet stood Gentle Ben,
the bear, waiting for his next match.
Hehe!

Believe me...
It was so funny seeing this bear looking
around, and waiting. There were about TEN cases
of Cream de' soda pop next to the edge of
the carpet. Yes, he would get a bottle of pop
after each victory.
So here are all these people surrounding
this BEAR, waiting to wrestle.

WELL WE GOT IN LINE.

Yikes!

The owner would say .....> "NEXT".
Mean-while Gentle BEN would be looking around the
crowd, figuring "what am I doing here." Hehe!

BUT"
As soon as anyone would get in the circle,
BEN knew it was POP time. So one guy said,
"I'm up", and in the circle he went.

It was so funny seeing this bear looking
all around, at his owner, cases of Sugar Pop,
and the crowd.
BUT
now he would be staring at his competition,
eyes locked on. It was like slow motion, BOOM!
The young guy GRABBED Ole' Ben and the match was ..."ON".


Everyone was SCREAMING, and hollering ----
" GO" "GO" "GO"!

I was laughing so hard by this time,
my gut hurt. I couldn't believe it.
I've never seen anything like it, and
being at this age it was so cool... .

I couldn't wait to get in there with BEN...

Well What? Hehe!

The young guy was going at it, round and
round they went in a circle, they were holding on
to each other.
BOOM!
DOWN went the guy, in just A FEW seconds ole' Ben
had pinned him down. This Gentle Bear,
would be on his knees,
and holding the kid down. The owner said
"that's it, YOUR DONE". BEN stood up and,
looked at his owner for the REWARD,
which was a bottle of very tasty SUGAR CREAM DE' SODA POP.

Ole' Ben grabbed that bottle of pop, and down
the hatch it went. You could tell in Ben's eyes
'Heaven'.. .

A couple of seconds is all it took for ole' Ben
to down the pop. He was licking his chops,
staring at his owner, and then the soda cases.
BEN' wanted more, and that is stating it mildly. Hehe!
The owner said "NEXT".

Well,

after about half hour or so, Ole' Ben having had a break,
I was next in line. Talk about a little nervous,
it was also a little scary. Hehe!

Now I have seen others going at it by this time
of course, but still it was kinda scary. I went
in the circle and ole' Ben stared at me. He knew in his MIND:

ONE SWEET BOTTLE OF CREAM DE SODA POP!!
LMBO!

I was about 5 feet from Ben, who was staring
at me, and I back at him. People were screaming, and
laughing, as I slowly walked up to Ben and Ben
was walking towards me. WHAMMM! - we grabbed each other.

"YEAH RIGHT".

Talk about STRONG! Geesh! Unreal how
strong he was. Well needless to say, it ONLY took a couple of seconds
for ole' BEN to pin me. Hehe!

It was so funny, when he had me down, he was staring
right into my eyes like "HEY LITTLE YOUNG DUDE

Dont EVEN try it". Hehe!!
The owner was close by as always, to make sure all
went well. Gentle Ben got up, and slowly walked over to the cases of pop for his reward.

So funny I'll never for get it. But the funniest thing that happened that day,
was when a HUGE body builder came out of the building.
He was one of the owner's friends. Talk about the incredible HULK!!

This guy had arms on him that could stop a truck.
The CROWD broke up the circle, and lined up on two sides,
for the body builder to make his way to the circle.
Slowly the body builder walked toward Ben. Before Ole' BEN
was always looking at the cases of pop, or the crowd,
BUT this time Ben's eyes locked on this guy from a distance.

It was so funny. The people were going nuts by this time. Before OLE' BEN
would stay close to his owner in the circle for his next victim,
but for some STRANGE reason, this guy was getting gentle BEN's attention real QUICK!.

This time BEN was CIRCLING the little space he had to fight on instead.
As SOON as the body builder came within 5 feet of BEN
OLE' BEN began snorting and carrying on.
It was so funny, and people were cheering on the body builder.
Even I was, cause this guy was huge, and the arms
and legs this guy had. WoW! It was going to be something else to see.

As soon as the body builder came within reach of OLE' BEN,

BEN locked on, and WHAM it was ON.


Talk about SCREAMS, all the young girls were cheering
on the body builder. Now Ben and the body builder had a hold of each other,
trying to bring each other down, but the body builder wasn't going
to let that happen. He kept saying to the crowd
BEN IS GOING DOWN, BUILDER WAS SCREAMING!
'While OLE' BEN was thinking to himself, OH NO I"M NOT Fella. Hehe!!

NOBODY had stayed up with BEN so far.
THREE MINUTES In to the fight already, and this guy was grabbing
BEN'S Leg, and trying to put him down, but OLE' BEN
grabbed the body builder and shoved him back.

Everyone was SCREAMING FOR THE BODY BUILDER. At one point the
body builder had OLE' BENS's leg again, and everyone was thinking
this is it. OLE' BEN kept circling the body builder,
grabbing anything he could get a hold of.

BOOM! The body builder let go. WHAM! The body builder
circled around BEN, and got BEN from behind. BEN was jumping and snorting
and doing everything he could to get away.

EITHER ONE AT ANYTIME WAS TO GO DOWN ON THE CARPET AND THE FIGHT?
WOULD BE OVER.

OMG! OMG!

The body builder was so strong he got OLE' BEN
off his feet, and DOWN THEY WENT. YOU could hear the people
laughing and screaming for miles I bet. But the owner didn't break them up.

OMG! LMBO!

He let them go at it. Hehe! The crowd
now switched from cheering on the body builder over to BEN,
screaming
"GO GO GO BEN GOOOO".

OLE' BEN and the body builder were rolling all around on the carpet,
it was so funny watching this, OMG! it was...

They were wrestling for FIVE minutes, tumbling, and grabbing each
other. The body builder was soooo tired by now, and OLE" Ben was getting
the upper hand. BEN had overcome the body builder and WHAM - pinned him.
The owner jumped in and said,

"THATS IT" AND SCREAMED "BEN YOU WON".

The crowd went CRAZY! The owner was holding BEN'S FRONT PAW UP!
He took off Ben's muzzle and handed him a bottle of 'SWEET'
CREAM DE' SODA POP!! He guzzled three of them...

Hehe!

Soon the owner and his friends had loaded up the rest of the pop,
and loaded up Ole'Ben, in his 1959 Mercury convertible.
Ole'Ben was sitting in the back of this Classic Car -
so 'COOL'.

PEOPLE were cheering Ole' Ben when they left the parking lot,
and drove away! It was so funny seeing this. I'll never forget it.

The owner and OLE' BEN came to wrestle two more times
during that summer. Then the city stepped in and said it's
against city ordinance to do this anymore.
Awwwww!

I'll never forget the owner, Ben Sorencen, or the Bear he called 'Gentle Ben'.

Whatever you do in life, there is NOTHING that is that bad, that you can't over come.
Tell those close to you that you love them very much.

Give them "ONE BIG BEAR HUG FROM ME, OK!



Take care of yourself, and know there is someone that loves you.
Would You like To Read
More True Bear Stories?

Click Icon ~ Bluejays page listings.




5-15-07