We assume it was our seven foot tall black bear, who did this much damage.
When standing on his hind legs, he is
one big bear, possible weight of 400 pounds.
Just a "WILD" guess. Hahaha!
He has been here before. And he could have easily, clawed
this tree to shreds, and believe me, it was worked over big time.
Of course it could have been one of the other
four black bears who come to visit.
Or maybe a bobcat?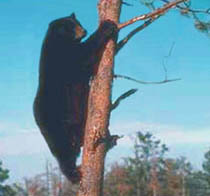 Joe cut it down a few days later,
and we stacked it for
burning in our fireplace.
Because we have learned over
the years, that sunflower seed
and suet is well liked by bears,
we take our bird feeders that hang
on steel shepherds hooks, down every
night so as not to entice them.
All be it, bears are an awesome animal.
They can run 35 MPH if they have to, and they are very smart.
So far they are not on an endangered list,
and their numbers are increasing.
I hope people who move to their territory
will use common sense, and not have bears
destroyed, because they are in their back yard,
and people are afraid for their children or pets.
This is understandable, BUT when
you buy a creek front property,
or that beautiful little cabin in
a mountain, or just get a little hideaway shack,
remember that wildlife roams free.
The deer and bears and cute cubs;
the families of skunks, with their aromas;
the quickness of coyote and fox;
the bob cats or mountain lions;
the opossums, groundhogs, porcupines;
the snakes, spiders, and bats.
Countless other wildlife that roams or flies or crawls.
In this country (USA), man has taken so much territory
from all these creatures, and for many
there is no where left for them
to go, but YOUR backyard.
For Joe and me, this is an awesome adventure,
dangerous sometimes, but this mountain,
holds much more for us.
God is here in this mountain.
We feel Him, we see Him.
He touches us, with every breeze;
His colors are so vibrant, in everything we see;
and yes even the harsh seasons,
mother nature deals us sometimes, are difficult
to endure.
But when we see the beautiful wildflowers
scattered across the open spaces,
or watch an eagle soaring overhead,
or when we can step into the cool
Penns' creek water that flows below our home,
this my friends is ~ Peace.
[foot note: The picture below is a true picture of our Penns Creek and mountain. It is the
only all "spring fed" creek, (in America)
81 miles long from Penns Cave to the Susquehanna River.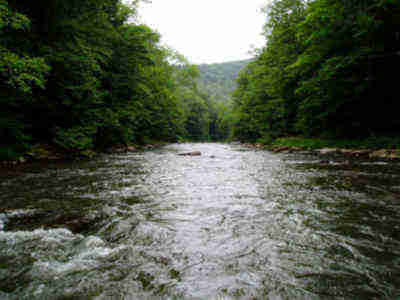 Written 2007 by ęBarbara L Carter aka Bluejay12
Designed by Bluejay & Diamondavid
Website maintained by Diamondavid
Song Title: Guiding Light



Click here for More Real Bear Stories!!