TAKING DOWN THE LAUNDRY

September 7th., 2007

Yesterday we had a visitor. A friendly young 2 to 3 year old black bear. This young bear is not the same one that was here in July. This bear has only one ear tag, where as the bear (we named Shortie) that visited in July had a tag in each ear. Shortie's story is titled: A Very Busy Bear", and is in Bear Stories at bottom.

Now I would like you to meet Rascal. The first picture is of him coming through our yard.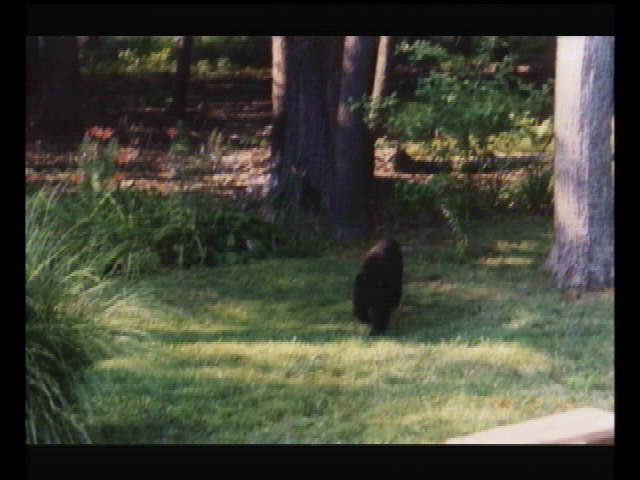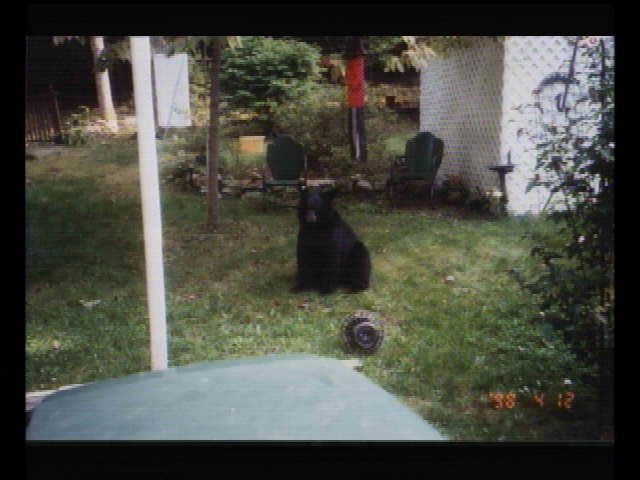 The second picture is of him after he got the round bird feeder down. He would roll it around and around, to get the bird seed out of it. Isn't he just precious?
[For the sake of always having to say him or her, and not being able to tell the gender, we will call this one a him.]
We were alerted to his presence when Lilah (our boxer) started barking like mad -- and we knew one of them was out there. Rascal was right outside the patio doors by this time.  We noticed another bent shepherd's hook again, laying over in the front yard. He was so playful and rolled that round bird feeder again, just like a little kid.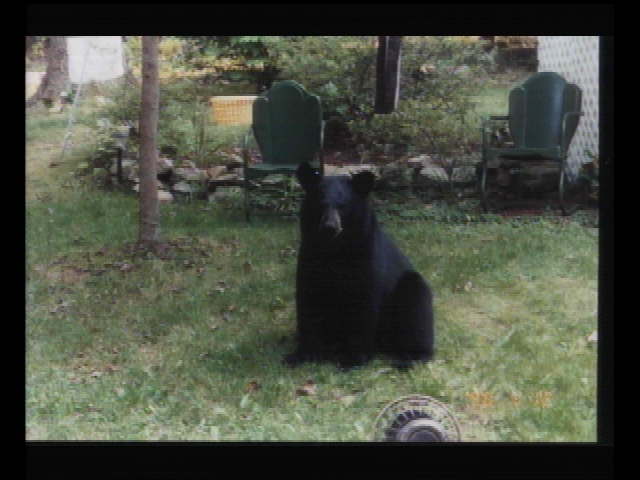 Well this little guy looked in the window at Lilah barking and us standing there, and he just sat his little butt down.
I took a couple pictures through the window which usually doesn't work cause of flash backs.   SOOOOOOOOO since I know this guy has been roaming all summer by himself, I decided to go out with him.
I talked to him and he just sat there and listened as I took pictures.   Joe would sneak out the front door, while I kept his attention, to get the rest of the feeders in before he destroyed them all.
WELLLL _ then he decided to get up and headed up towards the mountain,
but on the way he spied my yellow sheet I washed and hung on line.
Being in a "rascally" mood he decided that would be cool to play with. He stood up and grabbed hold of the sheet,
tugging and pulling on it, but couldn't get it off, and I snapped picture.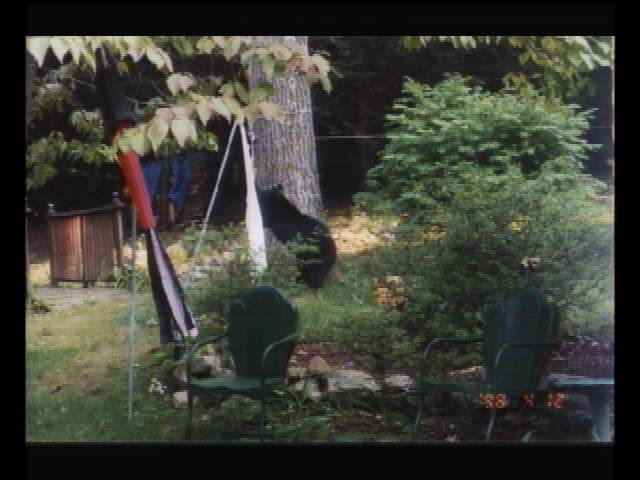 Joe was standing outside with me, and he laughed and said "he is your helper - taking down the wash". Hahahahaha! Just too funny.
 Then Rascal laid down on the ground underneath the sheet
and tugged on it. That still didn't work. He could not get it off the line.
It is a wonder that rope clothes-line did not break.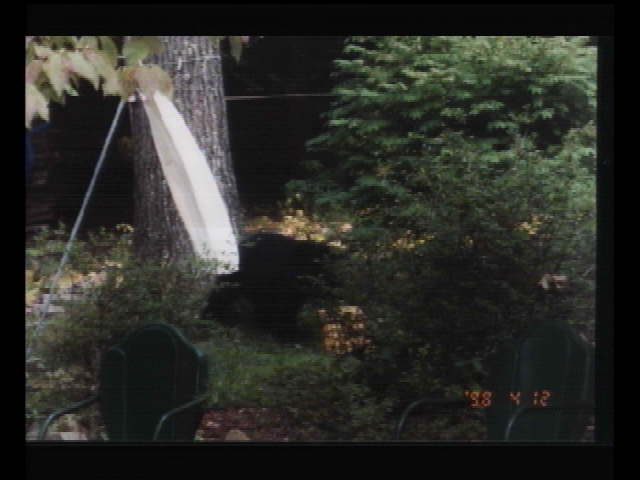 This picture is a bit dark and hard to see his face, but he is laying on his right side,
his head underneath the sheet,
and his snout is pointed right at me.
Since he didn't succeed in getting it off the line, after tugging on it awhile, he now seemed bored,
stood up, and roamed into another part of the yard and walked away.
Joe and I agree on one thing, we have seen more bears this year then we have deer.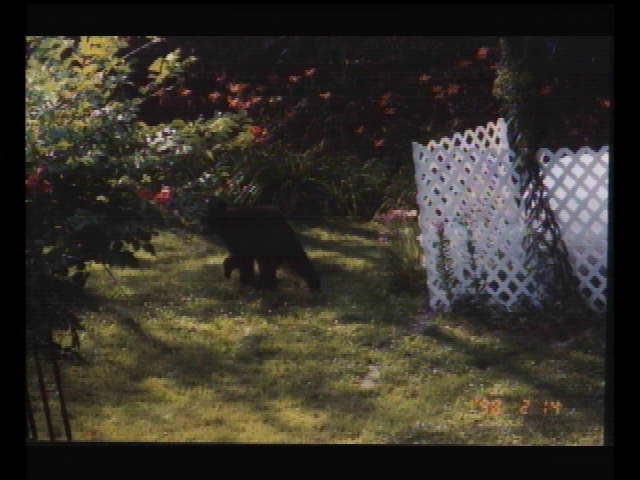 I did hang several bird feeders back up the next morning.
 We have to feed the birds. All these birds in picture below, plus many other varieties gather here.
Goldfinches, doves, purple/house finches, carolina wrens,
some sparrows, and three different kinds of woodpeckers.
Every now and then some wild turkeys will stop by,
especially during colder months, when not much else to eat.
Some birds nest here, and then we have the migrators
such as the red breasted grosbeaks, Juncos/snowbirds, and evening grosbeaks.
Occassionally a couple of crows stop by. We love watching all their antics and listening to their songs, chirping, and bickering.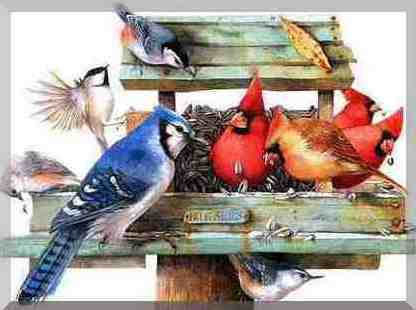 Click here and enjoy my dear friend CC's poem
"The Bird Feeder"
Take care and enjoy your day.

Story Written by
İBarbara L. Chambers Carter
Page designed by Bluejay12 & Diamondavid
website maintained by Diamondavid
Song Title: Friends
Triple by Emma

For more bear stories click on them lower on this page ~