TIme: 7:30 PM EST

It is of course dark here in the mountains of Pennsylvania, at this time of evening. My husband Joe, had just gone into the kitchen and I was settled in the living room.
Joe called to me, and motioned for me to come, while trying to keep our boxer dog Lilah, from going into the kitchen. This is no small task when she knows something is up.
Finally we were able to shut the sliding wooden door and
keep her penned in the living room and go to the kitchen.
We quietly walked towards the patio doors, and there laying on the ground, was our small bear Rascal.
He is bigger now, then when I was outside with him, to take the above picture, back in September. He also gained a few more pounds.
He of course tripped the motion lights, and we could see he was
busy pawing the ground and licking the grass, where black sunflower seeds had fallen from the feeders.

This bear we named Rascal, and if you read the first story
I wrote about him, in bear stories, you will know
he has only one ear tag, where as our other small bear has two ear tags.
On the mountain side of our house we bring the feeders we hang on heavy steel shepherds hooks in,
so the bears don't bend the rods, and damage the feeders.
Oh yes they can and do bend them, and Joe has straightened many a steel rod out, on the vise.
We watched Rascal lay down and then get up, and one time
he walked right up to the door and saw us standing there.
He was smelling around the big lug we have right outside the door. We call this lug the "BEAR" lug now, since last winter
one of the bigger bears opened the doors and also ripped the lid off, when we put a lock on the doors.

The story of this escapade is in bear stories.
After checking everything out, he started to mosey off. We had no idea which way he would go, so we went into the living room,
and turned the spot lights on to the lower side yard.
In this yard, which is near a small woods, we have a ten foot high pole,
where we put birdseed in the house on top and
hang individual bird feeders on the sides of house feeder.
More motion lights came on and there sneaking in along the side of the house was Rascal.
He cautiously walked over to the heavy steel pole, laid down and began pawing the ground looking for seed.
There wasn't much on the ground, for the squirrels
and doves, had been busy through the day, cleaning up the seed.
Well, Rascal, not getting much satisfaction, got up and stretched as far as he could, trying to reach the feeders. Though we now see he has grown taller as well as bigger around, he is still not tall enough to get them down, like our one big bear can.

But what Rascal did next made us laugh. He stood on all fours and started rubbing himself against
the pole. Well, I thought he was trying to scratch his side.
Then he stood up on his two hind legs, leaned his back on the pole, and began rubbing and bouncing against it, reaching up to get the feeders.
We figured out at that point, he wasn't scratching his back, he was trying to bounce the pole, and shake those feeders off, or at least loosen seed to spill out.
How dumb I felt LOL - Duh! And how smart a bear can be. Again he banged the pole with his body,
but he turned around this time to do it, his side leaning on the pole, and then he bounced his body against it.
And when he reached up this time to see if he could get the feeders, all was in vain. We felt so bad for him, for he tried so hard.

He walked around the pole a few more times, and decided to call it a night. At least he was done here in our yard, for he started down through the woods,
and most likely on to the next house to visit.
We enjoyed watching Rascal. He was so funny with his determination and antics.
We also learned yet another lesson, as to just how smart bears really are.
We are not sure if we will see him or any of our other
bears again this year, for soon they will bed down for winter. We will miss them.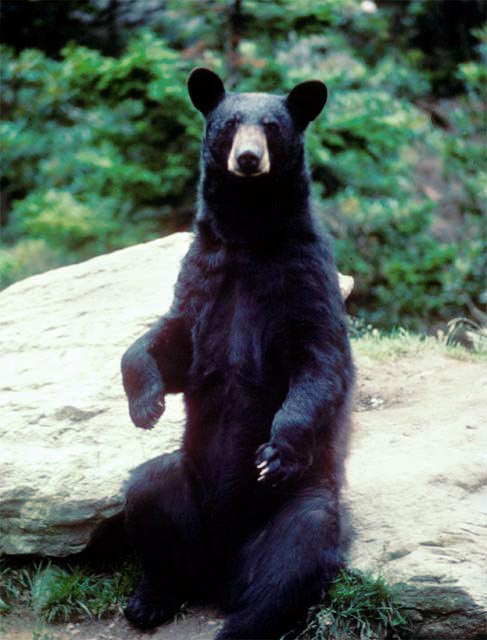 Written by Barbara L Chambers Carter aka Bluejay12
~ November 17 th., 2007 ~



Page designed by
Bluejay and Diamondavid. ~ Song Title: Bare Necessities

Here are a couple verses from Bare Necessities ~ Jungle Book

The Bare Necessities...
The simple Bare Necessities
Forget about your worries and your strife ... 
I mean the Bare Necessities Old Mother Nature's recipes
That brings the Bare Necessities of life.
Wherever I wander, wherever I roam
I couldn't be fonder of my big home.

The bees are buzzin' in the tree
To make some honey just for me.
When you look under the rocks and plants
And take a glance at the fancy ants....
Then maybe try a few...
The bare necessities of life will come to you....They'll come to you!
Look for the Bare Necessities...
The simple Bare Necessities.
Forget about your worries and your strife...
I mean the Bare Necessities...
That's why a bear can rest at ease.
With just the Bare Necessities of life.





Click here for More Real Bear Stories!!
Click Icon ~ My page listings.