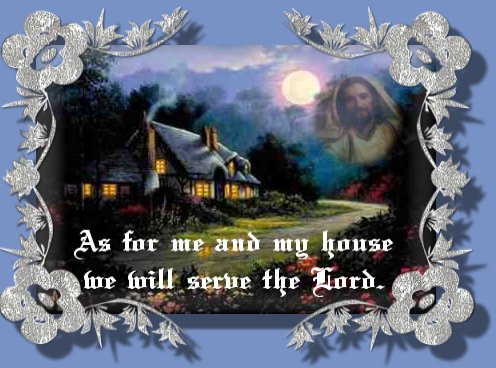 "THE VISITOR"
One spring night, after doing my
chores, and tucking my children in bed.
I pulled a chair near the bay window,
To watch the shimmering stars overhead.


The brillant moon was casting it's beams,
Showing the splendor of earth's night time beauty.
When my eye caught the shadow of a man,
Slowly walking toward a lone dogwood tree.
As he moved through the moonlit garden,
I could see he was garbed in white,
and had golden hair.
He reached up to touch a dogwood blossom,
Gently pulling it to himself,
He caressed the petals creamy fair.
Seeing his tenderness so capitivated my heart
My whole being was bursting inside.
Thinking, this is the Lord Jesus, here in my garden,
So completely filled me with humbled pride.
A seemingly quiet hush filled me,
The awesome sight, took my breath away.
An overwhelming feeling swept through my body,
And I just looked at Him, and began to pray.
He walked toward my window -- looked at me
And with a serene smile, He gave a wave of his hand.
Early next morning I walked where He walked
Stepping in His footprints that hallowed the ground.
I will NEVER forget this awesome night in 1969 ~
Written by
ęBarbara L Chambers Carter
October 12th, 2005 - ęcopyright 1972-2020
Many have experienced the presence of the Lord.
I pray many more will.