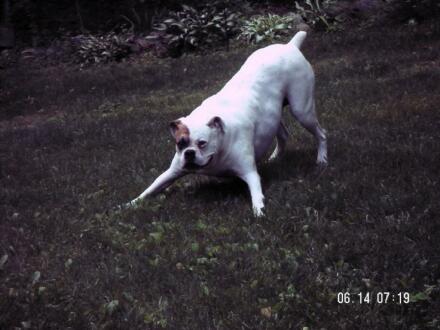 ~ This is Lilah ~
~ She is a purebred boxer ~
~ nine years old. ~


*

"Ode To Lilah"





"Written January 2009
by her friend and ours - SANDI GARDNER
who lives in New Mexico"

Lilah sweet Lilah
The rascal dog you are
But your heart is pure
And one of the bestest dogs by far .



You are so loyal, brave and true
Protecting your master and mistress too..
You stalk your domain, keeping danger at bay,
And when the bears come..
You help chase them away..



You jump, scurry, leap, and run,
And gee when evening falls
and your day is all done..
I hear you're no slouch,
Because it is time for dreamland
on YOUR pillow and couch..



So Lilah sweet Lilah,
You are one beloved friend..
and so sorry I must go,
But this ode has to end...
Woof! Woof!
Paw Up - High Five!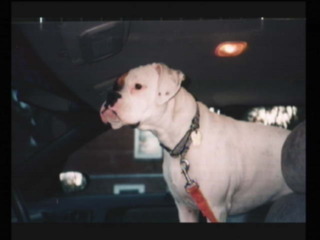 Lilah has become the online family dog of some internet friends.
We talk about her so much, especially
when the black bears come to visit each year.
We have become friends with other family
dogs here, and it is so much fun, enjoying the stories
we tell each other about our pets.
In the past four years she has had three surgeries
for cancer in her front leg. She is doing very well.
UPDATE DECEMBER 2010
LILAH girl was helped across the Rainbow Bridge.
She was eleven and half years old.
Her cancer in leg became very active
But the doctors felt her heart
would not withstand more surgery.

On to my Little Muffin Page!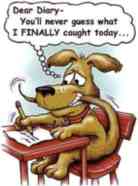 Click Bluejay Icon
My page listings.


Page designed by Bluejay & Diamondavid
Song title: "Day Will End"